Mitch's Web Site
Welcome!


Mainly Mahaska, Wapello, Keokuk County areas but some on Henry, Lee, Lucas, Wayne, Marion, Poweshiek, and Washington Counties
(Thanks to the many wonderful people who have shared info and encouraged me!)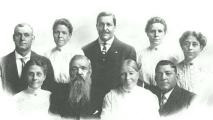 Ferdinand Ludwig Schwarz, my gggrandfather from Germany



Comments, suggestions, corrections, problems -please let me know. Thanks.