Balingall, P. G.
Portrait and Biographical Album of Wapello Co., Iowa, copyright 1887
################################
This page typed because image file corrupted.
Hon. Peter G. Ballingall, prominent among the representative men of the county and one of the leading hotel men of the State, at present a resident of Ottumwa, was born in Glasgow, Scotland, March 3, 1830. He is the son of P. and Martha (Smith) Ballingall, both of whom were also natives of Scotland. The father was born in Ayers and died in 1832 in his native land. The mother was born in Glasgow. They became the parents of one child only, the subject of this sketch. After the death of the father, the mother contracted a second marriage, with James Hodge, who was born in Edinburgh, Scotland. This union resulted in the birth of nine children, only three of whom are living: David, a resident of Ottumwa, who was born in Glasgow; N. J., the widow of W. P. Phillips, who was born in Philadelphia, Pa., and died in 1805, in that city; the third is Martha K. At the age of seven years our subject, in company with his mother and stepfather, came to America, landing at Quebec after a voyage of several weeks. In crossing the Atlantic the entire family were seized with illness, one brother dying and receiving an ocean burial. From Quebec the family went to Montreal, and thence to Port Hope on the banks of Lake Ontario. After a short sojourn there his mother, brother and himself walked fourteen miles to Brighton, and from there proceeded to Helderman Four Corners, where our subject earned his first money selling matches. Before he was eleven years old he walked from Coburg, seventy-three miles below Toronto, to Chicago, by a round-about way which involved a distance of seven or eight hundred miles. After arriving he was employed in various capacities at different hotels, and proved himself peculiarly adapted to this calling. He advanced from one position to another, and in the course of time was appointed Receiver of the Lake House, which position he filled acceptably until 1855. Upon leaving he was presented with a fine gold watch, the letter accompanying it being signed by some of the most prominent men in the city. After leaving the Lake House Mr. Ballingall spent three months in traveling, going through most of the Southern States, and while off the coast of Cape Hatteras was driven by a storm to the Bermuda Islands. After reaching terra firma again and visiting the East, he came to Chicago and opened the Briggs House, whence, after a few months he came West to Galesburg and became propietor of the Haskell House. The folowing year he closed out his interest in this and visited Minnesota, where he purchased a tract of land, and thence, in the fall of 1856 came to Keokuk, Iowa, as manager of the Ivins House. The following year he removed to Bentonsport and opened the Ashland House, thence to Fairfield, and from there to Agency City, where he opened the Revere House. Here he met with a serious loss, having his valise stolen, with a valuable collection of rare coins and the watch that had been presented to him in Chicago. In the summer of 1859 he still moved on with the terminus of the railroad, to Ottumwa. Since coming here he has been the life of the town, having gathered from his removals and his experiences a valuable fund of information and making many useful and pleasant acquaintance with public men. During this time also he exhibited the great energy of character which is one of his chief peculiarities. In connection with his hotel operations he had at one time seventeen Government licenses for separate and distinct branches of business, all of which he made successful. For nine years he was proprietor of the stage line from Ottumwa to Bloomfield, and during that long period, through sunshine and storm, never missed a trip. In 1870 the railroad crowded his stage line off the track and he withdrew his stock. Since that date he run a line to Sigourney, a distance of thirty-two miles, until the completion of the Chicago, Milwaukee & St. Paul Railroad, when that, too, was withdrawn. In 1864 Mr. Ballingall erected the Ballingall House on the corner of Main and Green streets,
This page typed because image file corrupted.
################################
################################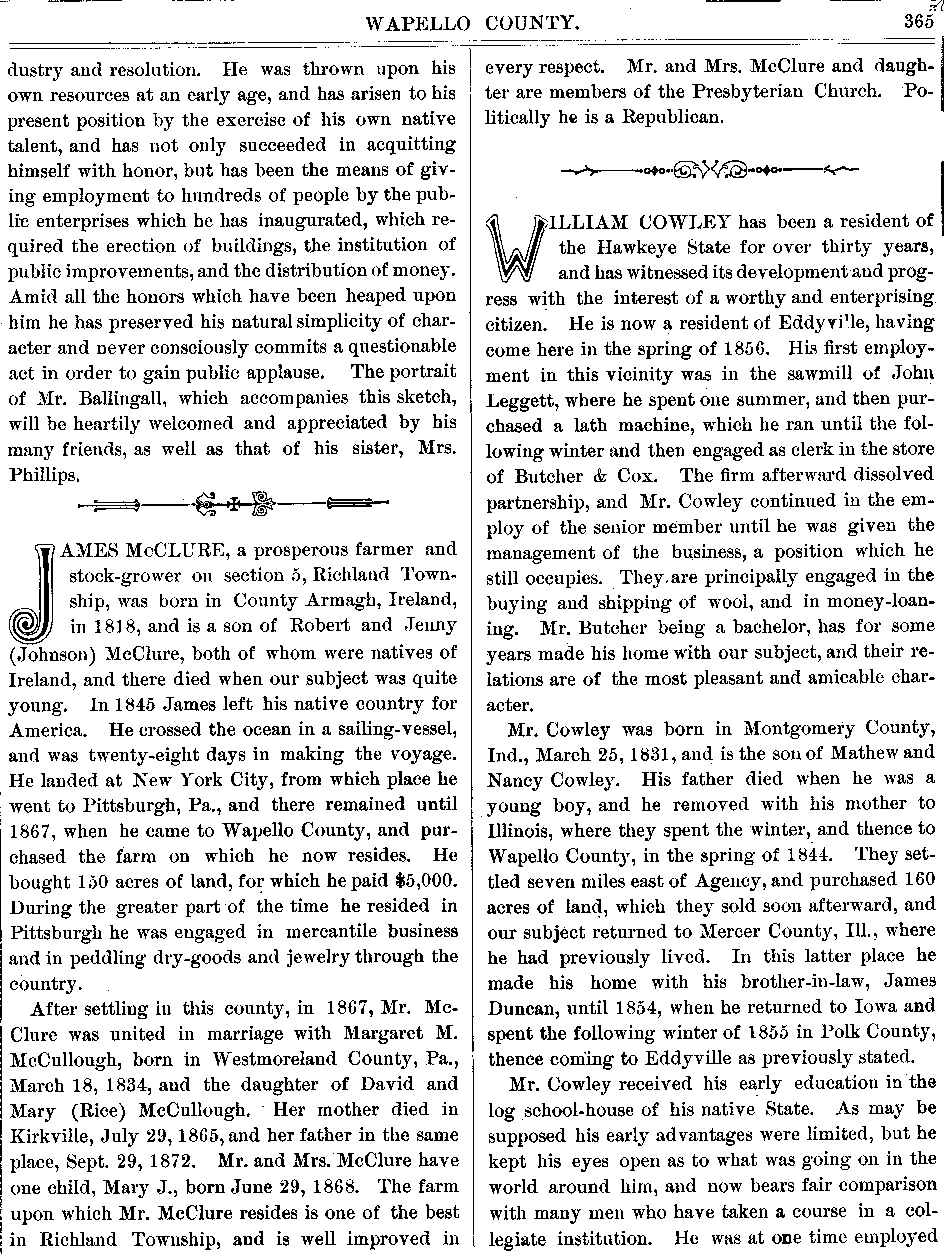 ################################
--------------------------
Return to