Newell, L. F.
Portrait and Biographical Album of Wapello Co., Iowa, copyright 1887
################################
(image was blurry so typed)
L. F. Newell. Emerson says all history is only biography. So we find this is especially exemplified in the community in which Mr. Newell resides. Its history is only the biography of the lives of a few men, chiefly among whom is our subject. He is a farmer and stock-dealer residing on section 6, Washington Township, and was born in Warren County, Ind., Jan. 25, 1841. He is a son of William and Jemima (Foster) Newell, both of whom are natives of Ohio. His father moved from Indiana to Wapello County, Iowa, as early as 1847, and died in Washington Township, Jan. 5, 1860; his mother died Feb. 5, 1860. Both were highly respected pioneers of this section. When his parents moved to Wapello County, the subject of this sketch was but six years of age. He was consequently educated in the district schools of this county, grew up here, and embarked in an active and what has been a successful business career. On the 6th day of February, 1862, he married Martha E. Page, a native of New Hampshire, who was born March 22, 1841. She is the daughter of David and Martha (Davis) Page, both of whom died near Fairfield, Iowa. Mr. and Mrs. Newell are the parents of three children: Ida M., born April 13, 1863; Carrie E., Oct. 25, 1864; Frank W., Dec. 10, 1866. Mr. Newell owns 700 acres of land in Washington, Pleasant and Agency Townships. On the home farm he has one of the best dwellings in the township, and everything about the place is kept in the best order, and we are pleased to present a full page view of it as a splendid representation of the farm homesteads of Wapello County. In his farming operations he makes a specialty of thorough-bred Short-horn cattle and Norman horses, keeping the best grades of all kinds of stock. He has also devoted much attention to shippping, and for twenty years has been quite an extensive shipper of stock, in which business he has been quite successful. He is a thorough business man, and withal a public-spirited one. There is no enterprise tending to build up the township, or county or State, but in him finds a friend. He was President of the Wapello County Agricultural Society one term, and served two terms as Treasurer of the same. He has also been connected with, and active in the management of the Agency District Fair, and was one of the Directors of the State Agricultural Society for three years. He and his wife are members of the Methodist Episcopal Church, and in politics he is a Republican. Mr. Newell's success has not been a success solely in the accumulation of wealth, but in doing good to others, in serving others well, and in winning their respect and esteem. He has ever strictly observed that most important factor in the public or business life of anyone-honesty. He is a careful, conscientious business man, ever adhering to the dictates of his conscience in matters both of a public and private nature. Such a man is an excellent representative of a community, and we take pleasure in presenting his portrait.

################################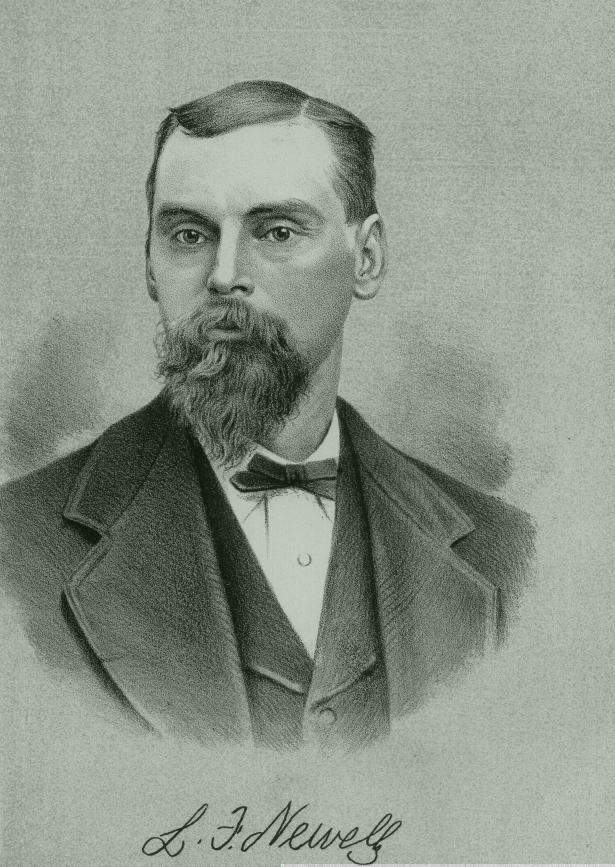 Want larger, higher quality image? Contact me and I can e-mail or otherwise send it to you.
--------------------------
Return to